| | |
| --- | --- |
| | Quality Products · Made in Germany I ESK-NEWS 01.2015 |
---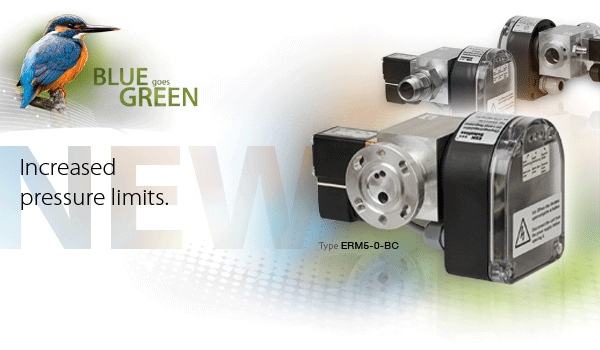 Coming soon:


New ESK Oil level regulator series ERM5
in 1999 we started the sale of our first generation of optoelectronic oil level regulators and level controls. We are proud to present you our

5th generation

of this product class which incorporates

improved features

.
⇒

NEW:

Due to the application of more powerful solenoid valves, our oil level regulators are approved for

pressure differences of

1.5 bar up to 100 bar

now. The

maximum working pressure

up to the solenoid valve is

130 bar

. The main body connected to the compressor is approved for

60 bar or 130 bar

(type: ERM5-CDH).

The main dimensions and all connectors remain unchanged.
Developed for frequency controlled compressors
The importance of frequency controlled compressors for modern refrigeration systems is increasing. Frequency controlled compressors have variable oil carry over rates. With the types ERM5-OC

-FU

* and ERM5-0-BC

-FU

* we offer new versions, which recognize if the oil carry over exceeds to oil return from the oil management system. This is signalized by a relay contact which can be evaluated by the system control. Therefore it is possible to reduce the compressor frequency for period of time. By using this method it is possible to increase the operational safety considerably. (* available from 01.2016)
Our new oil level regulator series ERM5 at a glance

Type: ERM5-0-BC


Compressor conn.: 3/4-bolt-flange


ERM5-OC / ERM5-CDH-OC


threaded conn.: 1.1/8"-18 UNEF
---

Technical data
Max. allow. working pressure of the unit:
type ERM5-..
60 bar
type ERM5-CDH-..
130 bar
Working pressure difference oil return:
1,5 … 100 bar
Max. allowable working pressure
up to the solenoid valve:
130 bar
Oil refill cycles: filling / measuring
5 sec / 10 sec
… of course all other advantages
of the ESK regulator family will remain:
Approved for a wide variety of refrigerants including R290 and R600a

High control accuracy due to multi point measurement

An integrated 230 V power supply

All components like solenoid valve, electronic module and connectors of the selected product type are already factory mounted ("plug and play")

Changeable oil filling ratio for special working conditions via a programming key

Modular design for an easy failure analysis and an economical repair
For all common compressors adapters are available.
Available from 10.2015.
Fur further information, please refer the new data sheets Operating instructions ERM5, on our website we provide you to download the 3-D files (.sat) and customer's drawings. Our application engineers will be pleased to advise and support you personally.

ESK Schultze GmbH & Co. KG / Sales & Technical support
Tel. + 49 (0) 3304 3903 0
ESK Components for cooling, air conditioning and heat pump applications
---
Published by:
ESK Schultze GmbH & Co. KG
Parkallee 8 · D-16727 Velten
Germany

Tel:  + 49 (0) 3304 3903 0
Fax: + 49 (0) 3304 3903 33
E-Mail: info@esk-schultze.de


Service-Hotline: + 49 (0) 1805 375 463
or:   + 49 (0) 1805 ESKINF
Mo-Thu 9am –17pm · Fr 9am – 16pm
---
All questions and comments are appreciated.

www.esk-schultze.de

© ESK Schultze 2015. All rights reserved. · Subject to technical modifications and error!